Certified Leadership Practitioner
The Professional Leadership Standard
Becoming a Certified Leadership Practitioner (CLP) shows employers, colleagues and clients that you are a professional leader who is recognised by your peers for your experience, expertise and qualifications. You can maintain and enhance your CLP credentials by participating in continuing education opportunities, including exclusive opportunities provided for CLP members, and by demonstrating your applied leadership skills through the acquisition of new areas of leadership responsibility or transitioning to new leadership roles. Accreditation is based on quantitative and qualitative assessment of educational attainments, career achievements and work history of each individual applicant. The assessment takes account of your educational qualifications, position in the organisation, period of time in each position, number of reportees, level of responsibility, breadth and depth of leadership experience, and other educational and vocational experiences that have helped to shape your leadership journey.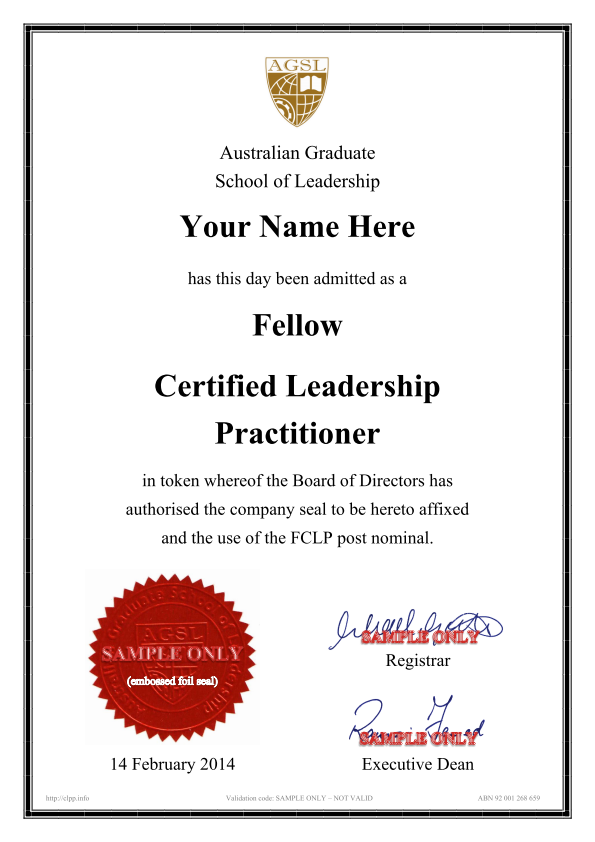 Recognition of Your Leadership Experience and Expertise
CLP is the professional benchmark for leaders in all sectors of the economy. Attaining CLP status is recognition of both your formal education and successful implementation of your leadership skills as demonstrated by your employment history. By becoming a CLP, you can:
CLP: Certification Criteria
Every application to become a Certified Leadership Practitioner is individually assessed, however certified members usually possess:
When assessing your application to become a Certified Leadership Practitioner, points are allocated for education, experience and acumen. The total number of CLP points that are attributed to a prospective CLP member will determine the level of certification that will be granted.
| | | |
| --- | --- | --- |
| Membership Level | Points Required | Post Nominal |
| Associate | 1000 | ACLP |
| Member | 3000 | MCLP |
| Senior Member | 5000 | SCLP |
| Fellow | 8000 | FCLP |
| Life Fellow | 15000 | LCLP |
This table is indicative only and may be subject to change. Some membership levels may require specific attributes in addition to the accumulated points; for example, applicants must also hold a doctorate or equivalent to be granted life fellow status.
CLP members can enhance the standing of their membership over time by undertaking educational activities (such as continuing professional development or completing accredited tertiary qualifications), by demonstrating increased practical leadership responsibility (for example, following a promotion or appointment to a new role) or by providing evidence of increased leadership knowledge and acumen (for example, by having an article on leadership published in a peer-reviewed journal or making a presentation at a leadership conference).
Professional Attributes
(select highest only)
Educational Attributes
(multiples allowed)
Acumen Attributes
(multiples allowed)
500 points
Leading teams or projects
50 points
One-day leadership workshop
500 points
Present at a leadership conference
1000 points
Leading teams or projects for over 3 years
750 points
Undergraduate tertiary qualification
500 points
Receive leadership award
2000 points
Leading a business unit
1000 points
Graduate Certificate
1000 points
Publication in peer reviewed journal
3000 points
Leading a business unit for over 5 years
1500 points
Graduate Diploma
1500 points
Member of Board of Directors
(< 200 Employees)
4000 points
Leading an organisation
2000 points
Masters Degree
2000 points
Teach leadership at a tertiary institution
5000 points
Leading an organisation for over 10 years
5000 points
Doctoral Degree
3000 points
Member of Board of Directors
(>= 200 Employees)
This table is indicative only and may be subject to change. There are many ways in which members can increase their total points and each application is assessed as a whole on its individual merits.